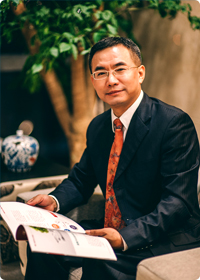 Chen Jinggeng:

Welsen Chief Partner, Chairman of Welsen Consulting Group.China Senior CPA, Trustee of China Institute of Certified Public Accountants,Vice-Chairman of Suzhou Institute of Certified Public Accountants, Secretarygeneral of SIP Accountants Society. Adjunct Professor of Shanghai University of Finance Economics,Suzhou University,South-West University, Anhui Universtity of Technology, HongkongUniversity Sipei Insitute etc. Mr. Chen has special views on China macro-economyanalysis.

Speech of the Chairman:


"Be Trusted Forever" is our service belief, "Independent, Objective, Fair and Integrity" is our principle. "Quality First, Credibility First and Service Foremost" is our foundation. With these philosophies, supporting from the customers, Welsen Consulting Group has achieved steady development in terms of various business through 20-year-efforts made by all Welsen staffs, playing a positive role in various areas such as audit, consulting, appraisal, investment, training etc. which helps Welsen built-up excellent brand reputation with outstanding talent pool, high- quality service together.

In the great times, Welsen always keeps the social responsibility in mind, service for the national economic development and reform, insist on business developing with the people respected. Meanwhile Welsen made a stronger alliance with DAXIN Jiangsu branch, serving more and more capital market demands with the goal of " Larger Scale, Diversification, Internationalization, informatization and branding"

As the saying goes, "with the bright moon in the sky, the shiny stars glimmers in clouds". Guided by the grand Chinese dream, with care and support from all walks of life, all Welsen staffs forge ahead and will surely boom China and brighten the world!